---
A MESMERIZING EXPERIENCE
Our hypnotic JellyFish Lamp brings the ocean into your room! The LED light alternates between 8 colors! It enchants any room in the house! Perfect for all ages!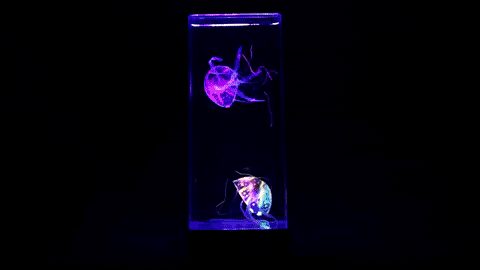 IMMERSE YOURSELF IN PEACE
Watch the jellyfish swim quietly, creating a beautiful atmosphere. The movements of the jellyfish are so realistic that you will wonder if they are real!
GREAT GIFT IDEA
This is a great gift for anyone who loves marine life or just wants to create an out of this world atmosphere. Great for Christmas, vacations, parties, home office, bedroom or living room.
HOW TO USE IT?
STEP 1
Open your Jellyfish Lamp box, the contents will include - 1 Jellyfish Lamp, 1 plug, 2 Jelly fish and 1 charging cable.
STEP 2
Remove the cap and fill the lamp with water, also add the artificial jellyfish. Then add a few drops of dish soap (this changes the viscosity and allows the jellyfish to move).
STEP 3
Plug in and enjoy your LED jellyfish lamp! If the jellyfish float, just push them down until all the air bubbles are gone!
PACKAGE
 CONTENTS
Here are the things you can expect to be in your package upon delivery!

1 x LED jellyfish lamp
2 x Fake jellyfish
1 x USB power cord